August 30, 2011 Vol. 4, Issue 6
Principal investigators, project managers, and project scientists gathered to exchange stories and knowledge at the third Principal Investigator Team Masters Forum in Annapolis, Maryland.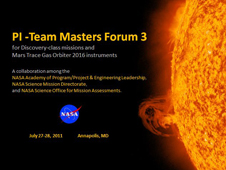 The forum, a collaborative effort among the Academy, NASA's Science Office for Mission Assessments, and NASA's Science Mission Directorate (SMD), brought together teams from the Discovery mission announcement of opportunity (AO) process and the Mars 2016 Trace Gas Orbiter mission to gain a better understanding of the role of a Principal Investigator (PI) at NASA. Master practitioners from past science missions shared stories, perspectives, lessons learned, and best practices with their colleagues.
Practitioners shared their experiences from missions such as the COsmic Background Explorer (COBE), Near Earth Asteroid Rendezvous (NEAR), and Viking. Presenters also shared essential management concepts and a breakdown of the key roles and responsibilities of members on the PI-led team.
Explore key management insights and knowledge essentials from the forum.