APPEL Releases Orbital Debris iBook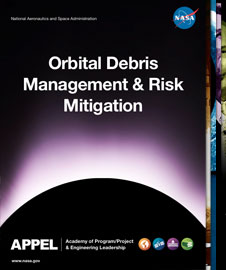 Orbital Debris Management & Risk Mitigation iBook now available:
Download iBooks File | PDF File | View iBook File in iTunes U Library
What do you think? Give Feedback
The NASA Academy of Program/Project & Engineering Leadership (APPEL) is excited to announce the public release of Orbital Debris Management and Risk Mitigation, its first publication of NASA training materials using the iBook format. This new electronic book platform, introduced in the spring of 2012, enables the seamless integration of text with videos, 3-D models, image galleries, and interactive graphics.
APPEL's Orbital Debris Management and Risk Mitigation (ODM) training course provides mission-critical knowledge that helps NASA missions implement with agency's overarching strategic goals and the U.S. National Space Policy goals for sustainability in space. The new iBook supplements the existing course taught by Mr. Nicholas L. Johnson, Chief Scientist in the Orbital Debris Program Office at Johnson Space Center. These supplementary materials are now freely available to anyone.
The book was produced using iBooks Author, a free software. Since iBooks are designed to function on an iPad/iPad Mini/iBooks Desktop Application, APPEL has also released a PDF of the complete text and all multimedia materials for readers using other technologies or e-readers.
How do I get a copy?
Before you get started, you must make sure your iPads software is up to date and that you have the appropriate applications to view the iBook.
What if I don't have an iPad/iPad Mini/iBooks Destop Application?
All of the content in the Orbital Debris iBook is accessible through other platforms. Please see the links provided below.
Read all of the content in the PDF version (30.2MB). Download here.
Experience all photos and videos through our Flickr site. Click to view set.
Engage with the interactive media."Timeline of Critical Orbital Debris Events." (Click to view.) "ISS Risk of Impact from Orbital Debris." (Click to view.)
Accessibility
For in-depth accessibility instructions, please visit the links provided below:
What's next?
This is only the beginning. Stay tuned for new releases. In the meantime, please let us know what you think of the book.
Click to give feedback.