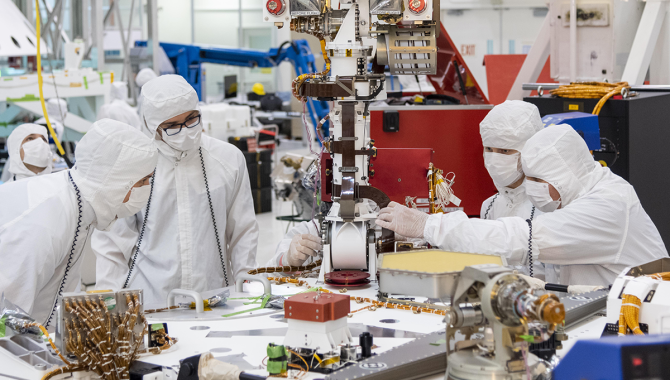 Skill Level: Project Managers/Project System Engineers or higher.
NASA R&T Program/Project Procedural Requirements use a minimum set of essential requirements to allow maximum flexibility for research and technology development. This two-day course provides context and practical advice for managing NASA Research and Technology projects using NPR 7120.8. The course combines lecture, facilitated dialog, practical exercises, and examples of real-world NASA projects to help participants build skills to address typical R&T PM challenges.
This course is designed for managers of NASA R&T programs and projects. Aspiring Project Managers, Systems Engineers, Chief Engineers, functional experts, and Business Group Leaders will also benefit from the course. This course works best with individuals with some NASA R&T experience who are open to new ideas and willing to share their insights and experiences.
Project Management Competencies
PM 2.0 - Stakeholder Management
PM 5.0 - Project Planning
PM 14.0 - Tracking/Trending of Project Performance
PM 15.0 - Project Control
PM 16.0 - Project Review and Evaluation
Common Competencies
C 1.1 - Agency Structure, Mission, and Internal Goals
C 1.3 - External Relationships
C 4.2 - Communication
C 4.3 - Leadership
C 5.2 - Knowledge Sharing
Click here to view full competency model.
Related Resources
Program/Project Management
Engineering
All supplemental resources are NASA accessible only unless otherwise noted.
Upon completion of this course, participants will be able to:
Apply NPR7120.8 to an R&T project.
Evaluate "success" for an R&T project.
Evaluate an R&T PM Plan for completeness and realism.
Differentiate Space Flight Project (7120.5) requirements from R&T project (7120.8) requirements.
Describe how TRLs may be used in R&T projects.
Describe the NPR 7120.8 program and project life cycles.
Describe key project stakeholder roles and responsibilities.
Navigate the formal dissent process.
Facilitate a consensus decision process.
Differentiate R&T project challenges from indicators of a troubled project.